PIP30 Family (PIP31, PIP38)
Rugged Industrial PC Featuring 3rd Generation Intel® Core™ i7 or Intel® Celeron® processor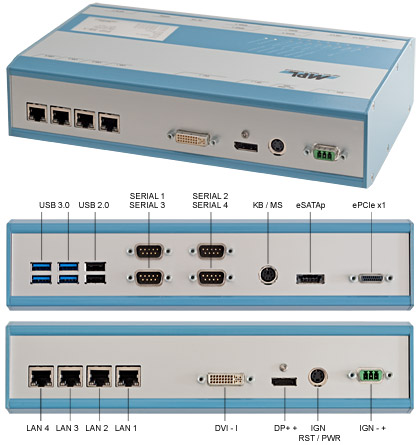 KEY FEATURES
Soldered 4GB* ECC RAM (up to 12GB via SO-DIMM slot)
Four Gigabit Ethernet ports
Fanless operation
Long term availability
Currently 2GB
Open Frame, Standard, or IP67 MIL housing
OVERVIEW
The PIP30 (PIP31, PIP38) is a low power, highly integrated rugged industrial PC with a specially designed aluminum housing. This allows to operate the PIP in a moderate or also in a harsh environment without fan or ventilation holes. The design integrates standard connectors for easy connection. Therefore the PIP can be used for any PC application where a complete solution is needed. It is 100% PC/AT compatible, and can easily be mounted on a 35 mm DIN rail or at a wall with flanges.
PIP30 Family (PIP31, PIP38) Highlights
The PIP housing offers space for up to two 2.5 inch HDD/SSD. With the integrated PCI/104-Express interface and the two PCI-Express Mini Card Slots there are flexible expansion possibilities available. Fully bootable FLASH disks are supported for projects where hard disks cannot be used. Particular precautions have been taken that the entire system EMC is within the CE and FCC limits.
The PIP30 Family (PIP31, PIP38) is the ideal solution for the industry wherever a flexible, rugged, and durable complete Industrial PC is needed.
The PIP30 Family (PIP31, PIP38) has specifically been designed to withstand extreme environments. What does this mean? PIP30 design rules
SPECIFICATIONS
Board Key Data
Processor PIP38
(more CPUs will follow)
Intel Core i7-3555LE 2.5 GHz dual core
4 MByte Cache (3rd Generation Ivy Bridge)
Intel 64 architecture, Enhanced Intel SpeedStep
DDR3-1600 memory interface
Processor PIP31
(more CPUs will follow)
Intel Celeron 827E 1.4 GHz single core
1.5 MByte Cache (Sandy Bridge)
Intel 64 architecture, Enhanced Intel SpeedStep
DDR3-1333 memory interface
Chip Set
Intel QM77 (Panther Point)
Supports ACPI power states S1, S4, and S5
BIOS
8MB Flash Memory
MPL engineered BIOS (SecureCore Tiano by Phoenix), customizable
Memory
4 GB DDR3 onboard soldered down ECC RAM
1x 204-pin dual-channel DDR3 SO-DIMM slot
ECC support
supports up to 8GB modules (total of 12GB memory)
Watchdog Timer
SCH3114 Super-IO watchdog timer
Configurable granularity 1-255 sec. or 1-255 min.
Indicator LEDs
Power, reset, HDD, LAN, and Wi-Fi LEDs
2 user programmable LEDs
Temperature Sensors
Monitors CPU temperature, on-board memory, and the board temperature
Interfaces
Graphics Interfaces
Intel HD Graphics 4000, 550 - 1000 MHz
DP, DVI-I and, 24-bit LVDS interface
up to 1920x1200 (DVI/LVDS) / 2560x1600 (DP)
Triple display capable, Gen3 PCI Express port
ESD protected (DVI-I and Display Port)
USB
4 USB 3.0 ports (external)
5 USB 2.0 ports (2 on external, 3 on internal)
ESD protected external connectors
Supports USB keyboards and mice as legacy devices
SATA
2x SATA 3.0 ports and 2x SATA 2.0 ports
RAID 0/1/5/10 support
eSATAp
eSATAp port with SATA 2.0 and USB 2.0
ESD protected connector
LAN
4 GigE ports (Intel 82574IT)
ESD protected connectors, WOL support
ePCIe
PCI Express Gen2 external cabling
x1 lane port with 500 MB/s, ESD protected connector
PS/2
For keyboard and mouse
1 x 6-pin Mini-DIN connector, ESD protected
Serial Ports
2 full modem RS232 ports on DB9 connectors
2 additional ports via optional module
ESD protected external connectors
mPCIe / mSATA
1x mPCIe slot with PCI Express Gen2 x1 lane
1x mPCIe / mSATA combo (SATA 2.0 or PCI Express)
PCI/104-Express
4 PCI/104-EXpress Type 1 ports
32 Bit, 33 or 66 MHz PCI bus
HDAudio
Intel HDAudio signals
Available on a 1 mm internal header
RST/PWR Button
Reset- and Power Button are available on top
Ignition Input (ESD protected connectors)
Reset-, Power Button and Ignition Input are also
available on a 4 pin Mini-DIN connector
Physical / Power
Chassis
Rugged chromated aluminum
DIN-rail or flange mounting, no ventilation holes
Size
270 x 162mm, with PCI/PCIe extension 440 x 162mm
Height depending on needs 62 / 82.5 / 120mm
Weight
Typically 2.2 kg (4.85 lb.)
Standard housing with internal 2.5" HDD
Power
8 VDC - 36 VDC input range
ESD and EMC protected power input
Up to 36 VDC reverse polarity protection
Up to 150 V load dump protection
Temperature Range
-20°C up to +60°C (-4°F to +140°F)
extended temperature TBD
With full CPU and 3D video, mounted on DIN rail
Humidity
5% - 95% non condensing
Optional coating available
Standard Compliance
The PIP30 Family is designed to meet or exceed the most common standards. Particular references are:
EMC
EN 55022, EN 55024, EN 61000, MIL-STD-461E
Shock & Vibration
EN 60068
Environmental & Safety
EN 50155, MIL-STD-810-F, EN 60601, EN 60950
Approval Lists
CE, EN 60945, IACS E10
Standard PIP Housings
Chassis
Rugged chromated aluminum with EMI protection
DIN-rail, flange mounting, no ventilation holes
Size
Footprint DIN-rail mounting: 270 x 162 mm,
Footprint Flange mounting: 310 x 162 mm
Height: 62 / 83 / 120mm
10.6 x 6.4 inch
12.2 x 6.4 inch
2.4 / 3.3 / 4.7 inch
Weight
approx. 2.2kg
4.85 pounds
Colors
RAL5024 standard MPL blue
RAL7016 anthracite gray
Optional customer specific color / top foil
OEM PIP Housings
Customized PIP solutions
with OEM specific color and/or foil
with OEM specific front plates (customized cutouts and/or engraved or labeled ports)
MIL Housings
Chassis
Rugged IP67 protected aluminum housing
Connectors according to customer needs
Size
304 x 234 x 75 mm (L x W x H) without connectors
4x M5 tapped holes for chassis mounting
Color
black
Optional customer specific color
Open Frame / OEM cooling plate
Customer specific cooling plate
PIP CPU board mounted on a cooling plate from a customer
Solution needs to be discussed prior to offer
ORDER INFORMATION
| Reference | Description |
| --- | --- |
| PIP38-1 | Low Power embedded Intel Core i7-3555LE 2.5GHz* with 4MB Cache, 4GB DDR3 on-board, additional DDR3 socket (up to 8GB), 4x GigE, 3D Graphic (DVI-I), 4x USB 3.0, 5x USB 2.0, 4x SATA, 2x RS232, PC/104... |
| PIP31-1 | Low Power embedded Intel Celeron 827E 1.5GHz* with 1.5MB Cache, 2GB DDR3 on-board, additional DDR3 socket (up to 8GB), 4x GigE, 3D Graphic (DVI-I), 4x USB 3.0, 5x USB 2.0, 4x SATA, 2x RS232, PC/104... |
| PIP30-Cx | PIP Solution assembled & mounted according the customer needs & requirements (e.g. with or without housing, depopulated parts, installation of specific connectors, installing a customers application, etc.) |
* Different Sandy Bridge / Ivy Bridge CPUs are available on request
Specifications subject to change without notice
CONTACT US
Tusk Embedded Technologies
Toll free: 1.855.468.8875
Local: 604.200.7965