FreeForm/104
PC/104 Xilinx Spartan 3E FPGA Module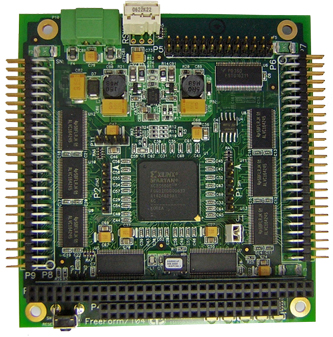 KEY FEATURES
Xilinx Spartan 3E - 500,000 gates
FPGA configurable through JTAG or SPI flash (4Mb)
Reprogrammable in the field for standard and custom designs
External 5V power connection for stand alone usage
Four user configurable LEDS and on-board reset switch
Eight position rotary switch connected to FPGA
OVERVIEW
FreeForm/104 is a PC/104 based FPGA development board for digital I/O and control applications.
Based on Xilinx's Spartan-3E, Connect Tech's FreeForm/104 provides off-the-shelf flexibility, making it ideal for high speed, compute-intensive, reconfigurable applications. The FPGA configuration is stored in flash memory, allowing users to easily implement design changes during development or in the field.
The versatility and high speed processing core of the FreeForm/104 makes it ideal for applications including; DSP, software defined radio, aerospace, defense systems, computer hardware emulation, production or laboratory testing and industrial process monitoring and control.
SPECIFICATIONS
Programmable FPGA
Xilinx Spartan-3E, 500,000 gates, 360K RAMStandard FPGA Configurations: Digital I/O: 96 digital I/O (8255 compatible), 6 x 8254 counter/timers

Digital I/O Opto-22: 48 Opto-22 (8255 compatible, 6 x 8254 counter/timers

Input Clock
66 MHz, internally scaleable
FPGA Code Storage
4 Mbit SPI Flash
Connectors
2 x 50 pin header: 48 reprogrammable 5V buffered I/O +/- 24mA drive current, each connector has 5V power and a ground pin1 x 26 pin header: 6 bi-directional pins, 12 input pins, 6 ground pins, unbuffered 5V TTLPC/104 header: fully bi-directional, configurable as a master or a slave, 8 bit I/O, 12 address bits, all IRQ's are connected, DMA's 0-3
Programmable I/O
96 high current TTL/CMOS (48 per 50 pin connector), 6 TTL (26 pin connector)
Fixed I/O
12 TTL inputs (26 pin connector)
Interrupts
All PC/104 interrupts are connected to the FPGA
Temperature
Commercial Model: 0ºC to 70ºC (32ºF to 158ºF)Industrial Model: -40ºC to 85ºC (-40ºF to 185ºF)Humidity: 95% non-condensingStorage: -65ºC to 150 ºC
Power Requirements
+5VDC 0.75 W (0.150A@5V) average with standard design 2.75 W (0.550A@5V) maximum with I/O transfers at 10 Mbps Current requirements are design dependant
Dimensions
Length: 9.5885 cm/3.775"  Width: 9.017 cm/3.55"
Weight
78 grams
Bus
PC/104 compatible or stand alone
System Requirements
Varies by configuration
Warranty and Support
Lifetime warranty and free technical support
ORDER INFORMATION
| | |
| --- | --- |
| Part Number: | Description |
| FBG001 | FreeForm/104 includes a standard core with 96 digital I/O and 6 counter/timers |
| FBG006 | FreeForm/104 includes a standard core with 96 digital I/O and 6 counter/timers. Industrial temperature range of -40 to +85 degrees Celsius |
CONTACT US
Tusk Embedded Technologies
Toll free: 1.855.468.8875
Local: 604.200.7965
DOWNLOADS